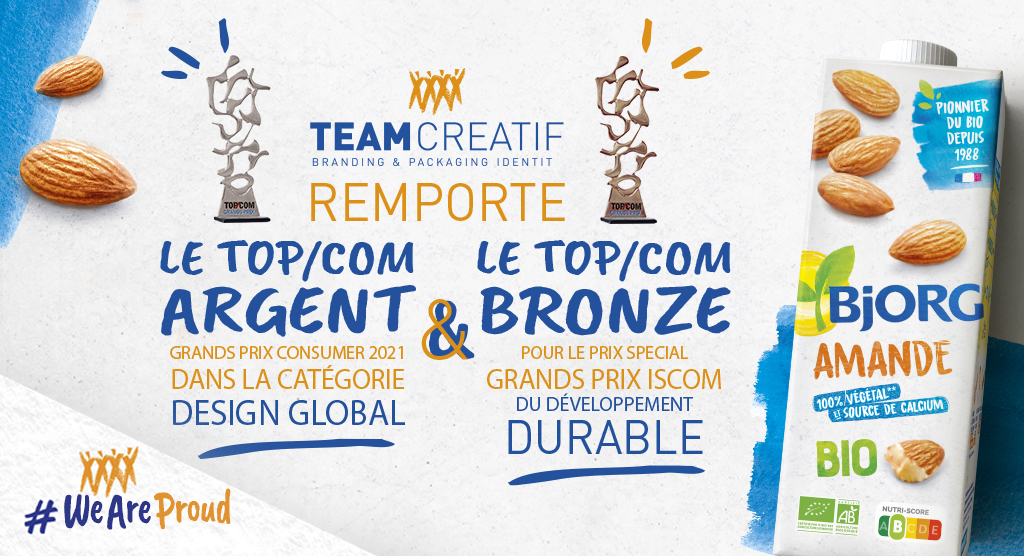 It is not 1 but 2 prizes that we obtained !
Bronze for the "PRIX SPECIAL TOP/COM GRANDS PRIX ISCOM" for Sustainable Development. But also the "TOP COM SILVER" in Global Design for our file on the new Bjorg identity.
These awards highlight our collaboration with the brand for over 12 years and underline our commitments.
Bjorg is the first French food company to be B-Corp certified in 2017. At Team Creatif, we are proud to be certified since June … to write together happy tomorrows !
Since more than 12 years, Team Creatif has been working with Bjorg, pioneer of organic food, in its evolution and in the development of organic food for all. Over the years and the 2008 and 2015 redesigns, the brand has opened up to bring organic and nutritionally better food to as many people as possible.
Thanks to these developments, Bjorg has been able to impose its pioneering vision of a new, more sustainable diet, and to maintain its position as leader in organic food despite the development of the organic offer for most conventional brands.
To reaffirm this expertise, Bjorg is reinventing itself in 2020 with Team Creatif, while respecting its DNA and reaffirming its status as an organic pioneer since 1988. More than ever, it offers a positive vision of food and reveals more strongly its commitments to people and the planet ; Bjorg to be alive.
The brand's commitments to people :
To democratize plant-based food,
The nutriscore,
Products that are nutritionally better than conventional products,
And a children's offer that guarantees a nutritional plus without compromising on taste.
Bjorg's commitment for the planet :
The preservation of biodiversity,
Green energy,
The origin of ingredients,
And eco-designed packaging.
Thanks to the definition of its archetype, it became clear that transformation was at the heart of the Bjorg brand's concerns. After supporting the transformation of food ; from conventional to organic, plant-based and nutritionally better, it was natural in 2019 to push the organic further.