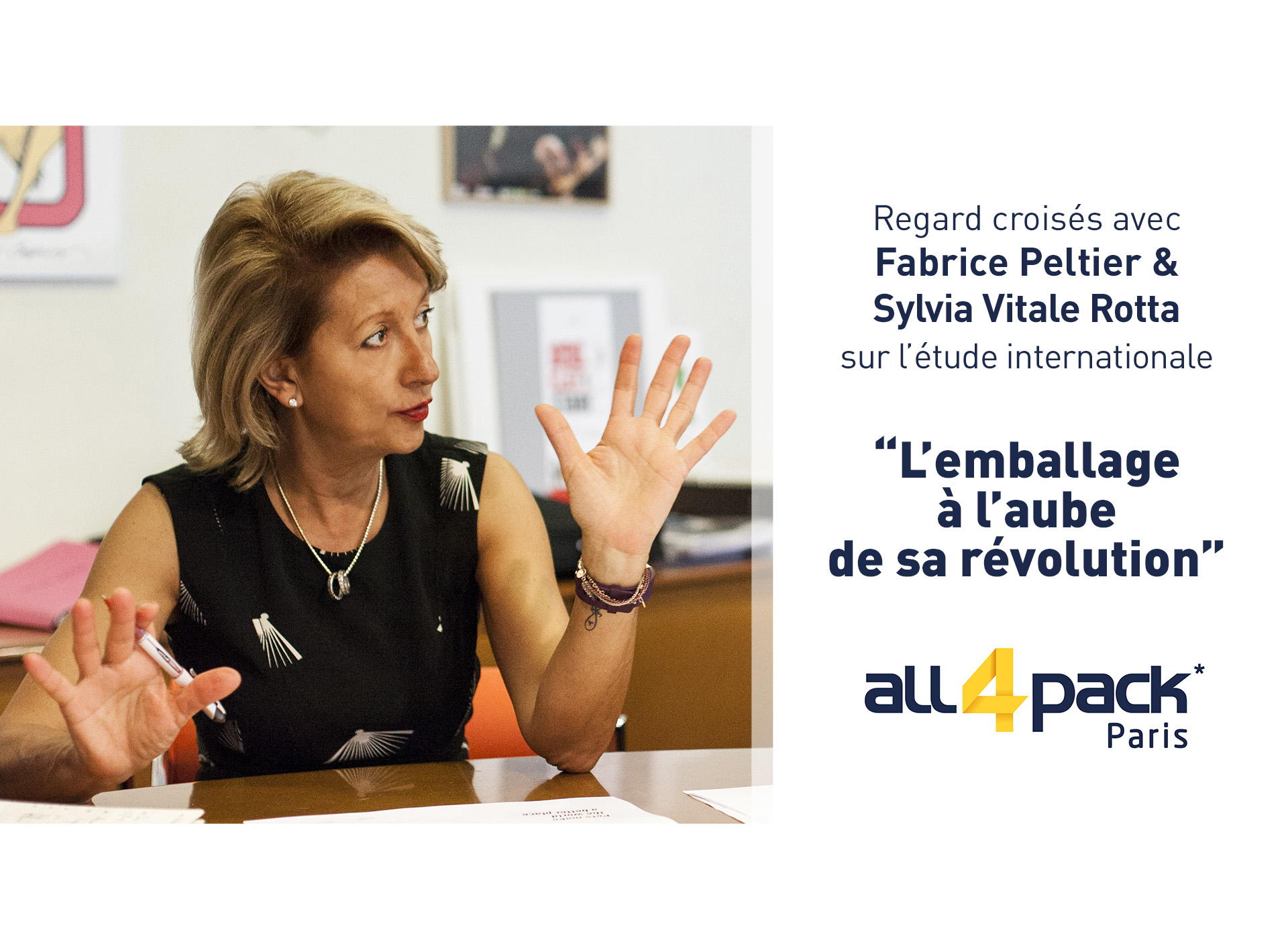 In view of the ALL4PACK Paris trade show which took place from 26 to 29 of November 2018, Fabrice Peltier, designer and consultant for the event has been mandated in order to prepare a study on the future packaging trends.
For this study, Fabrice Peltier first relied to the EPDA (European Packaging Design Association) which includes Team Créatif. Therefore, 22 designers from 16 countries from Europe and Maghreb have been surveyed about the challenges that they encounter in the packaging industry.
In a second phase, Fabrice Peltier worked with the survey institute YouGov to assess the expectations in terms of packaging evolution of 8253 consumers in 6 countries.
From these 2 studies emerge 4 big challenges for 2050, that will transform our way of life radically and urging the packaging to reinvent itself.
Sylvia Vitale Rotta, our CEO, has been chosen to represent France and to bring her expert point of view on this study.
Population ageing
To make packs more readable will be essential. According to the YouGov study, Baby-boomers (50+) and Millennials (18-34) want packaging to be easier to open/close. This promises opportunities of evolution if we consider that Millennials will be 60+ in 2050.
42% of the European consumers consider that the packaging readability is not good enough
47% feel that the improvement of the opening and closing is crucial
Earth's resources
Educating citizens is the best solution to spread environmental protection practice.
Packaging is a smart way to communicate information about recycling.
Europeans call for more obligations and incentives! They want the non-recyclable packagings to be prohibited as well as overpackaging. They would appreciate rewards for the return of used packaging. It shows a desire to change consumption habits.
47% ask for an overpackaging prohibition
40% want a non-recyclable packaging prohibition
The development of Artificial Intelligence
This technological breakthrough should make the packaging more responsible. Still, in the aim of educating citizens, AI makes sense if it helps to recycle and to reduce waste
38% consider there will be some ecological benefits by helping populations to sort theirs used packs
34% perceive AI as an opportunity to reduce waste, particularly by warning about the expiry date.
The increasing mobility with autonomous vehicles
When on the move, it seems that packaging should be easier to recycle and to open/close. Also, managing packs after their use is the main preoccupation for Europeans.
35% wish to improve packaging management
37% encourage the improvement of the opening/closing system between 2 use
Sylvia Vitale Rotta concluded, "We need to act quick and smart, the Earth and Humanity deserve it". On the Design side, these issues are fundamental and open new perspectives that we need to incorporate.
More information :