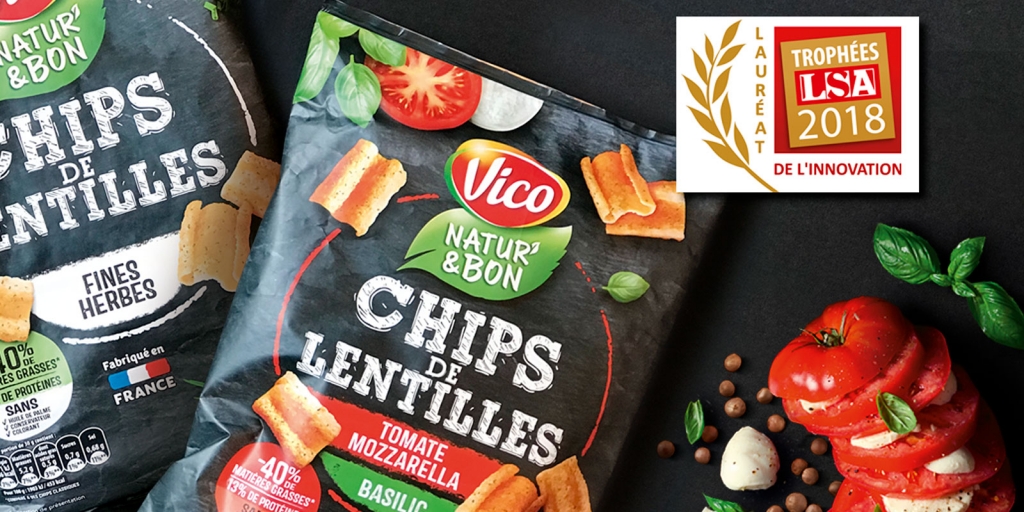 Team Creatif supports the brand and is delighted with this distinction!
Always innovative and listening to his consumers, Vico launched in 2017 his new Brand platform "nature tastes good" and entered in the new consumption trends market.
With this step, the brand launched a new range made of seeds under the brand name Natur'&Bon.
This successful launch pushed Vico to carry on to asserting his promise and launch the offer "Lentil Crisps": a new offer of puffed snacks made from lentils, synonymous of an assumed delicacy without compromising on the taste.
The Brand chose to revisit the way a puff snack was showcased with taste and originality, a smooth crusty texture and offering a brand-new recipe with 40% less fat than regular crisps.
This product was developed without palm oil, preservatives or food coloring and is made in France.
Vico focused on the quality taste of his offer with two varieties synonymous of sweetness: tomato mozzarella basil and herbs.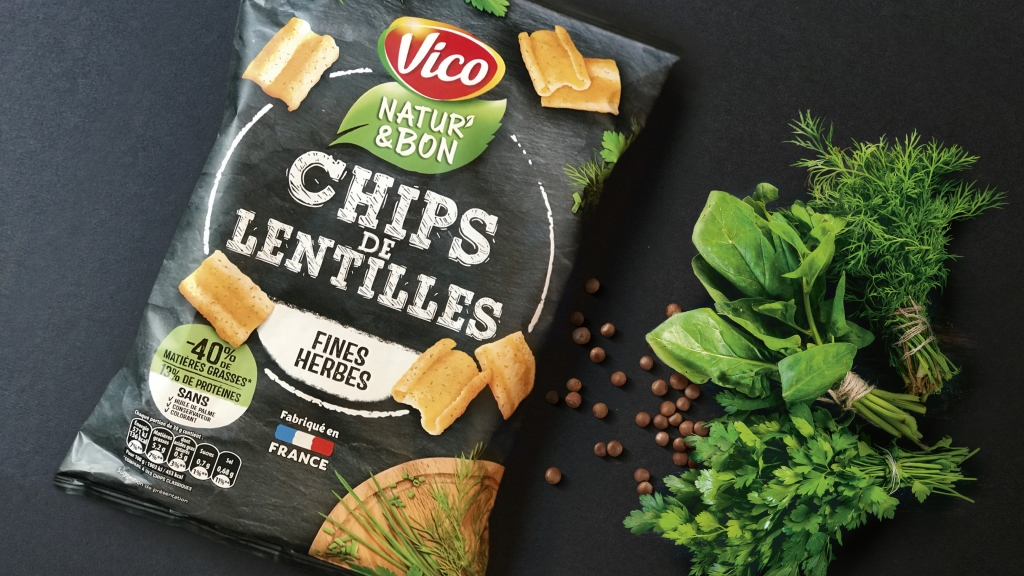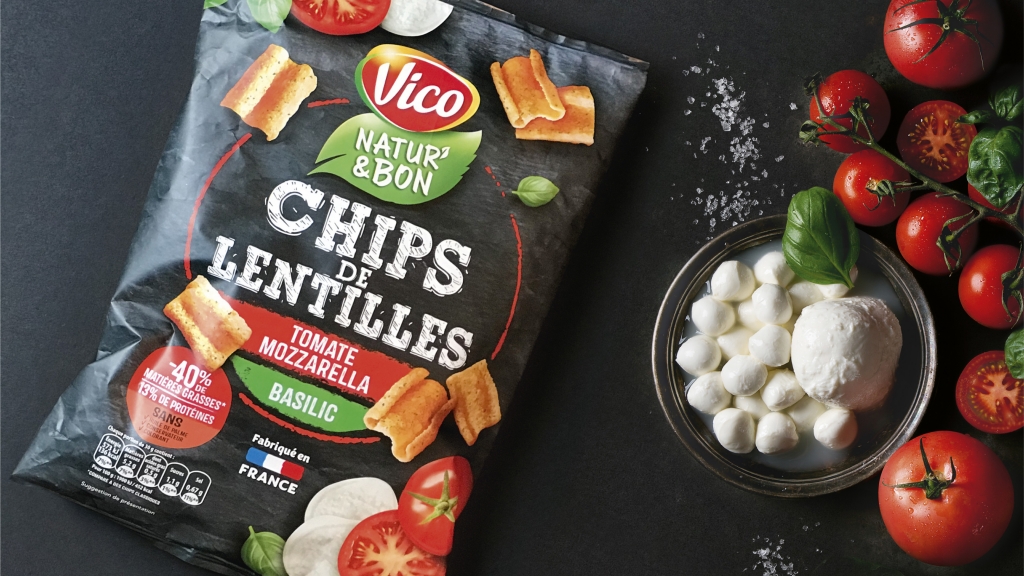 The idea behind Team Creatif's Design is to ground everything in taste and pleasure. On the front of the packaging, we can see a nutritional reassurance block with a special focus on the mention "- 40% of fat" and the claim "Made in France".
The range, already highly acclaimed by the consumers before the actual launch with nearly 80% of purchase intent on the two varieties were sold in October 2018 in stores.
(*tomato mozzarella herbs: 79% positive purchasing intent after the product tasting, 75% for the herbs PRS IN VIVO June 2018).
Let's remember that Team Creatif accompanied strategically and has advised Vico for more than 6 years.
Benoit de Lavarene, Managing Director of Team Creatif: « The Partnership of Team Creatif and Vico has been going on for several years. An important strategic turning point was taken two years ago on the brand platform, whose claim "Nature tastes good" is the advertising expression… and reflects the care given to the choice of ingredients, the high value of the nutritional engagements, and the high quality of the brand's recipes. With the lentil crisps, VICO has innovated by playing thoroughly on these three sliders (choice of ingredients, nutritional engagement and quality recipe). This product (also launched internationally) needed to break with the usual graphic codes of VICO in order to reinforce its innovative character, and the through the novel use of the main ingredient. By offering a very rough graphics (dark slate), and a strong portrayal of the various components, Team Creatif has created a design break with the category, while preserving the usual structure of VICO ranges. No doubt that this offer is promised a bright future on shelf and with consumers."
More information
https://www.lsa-conso.fr/trophees-lsa-de-l-innovation-decouvrez-le-palmares-2018,306021