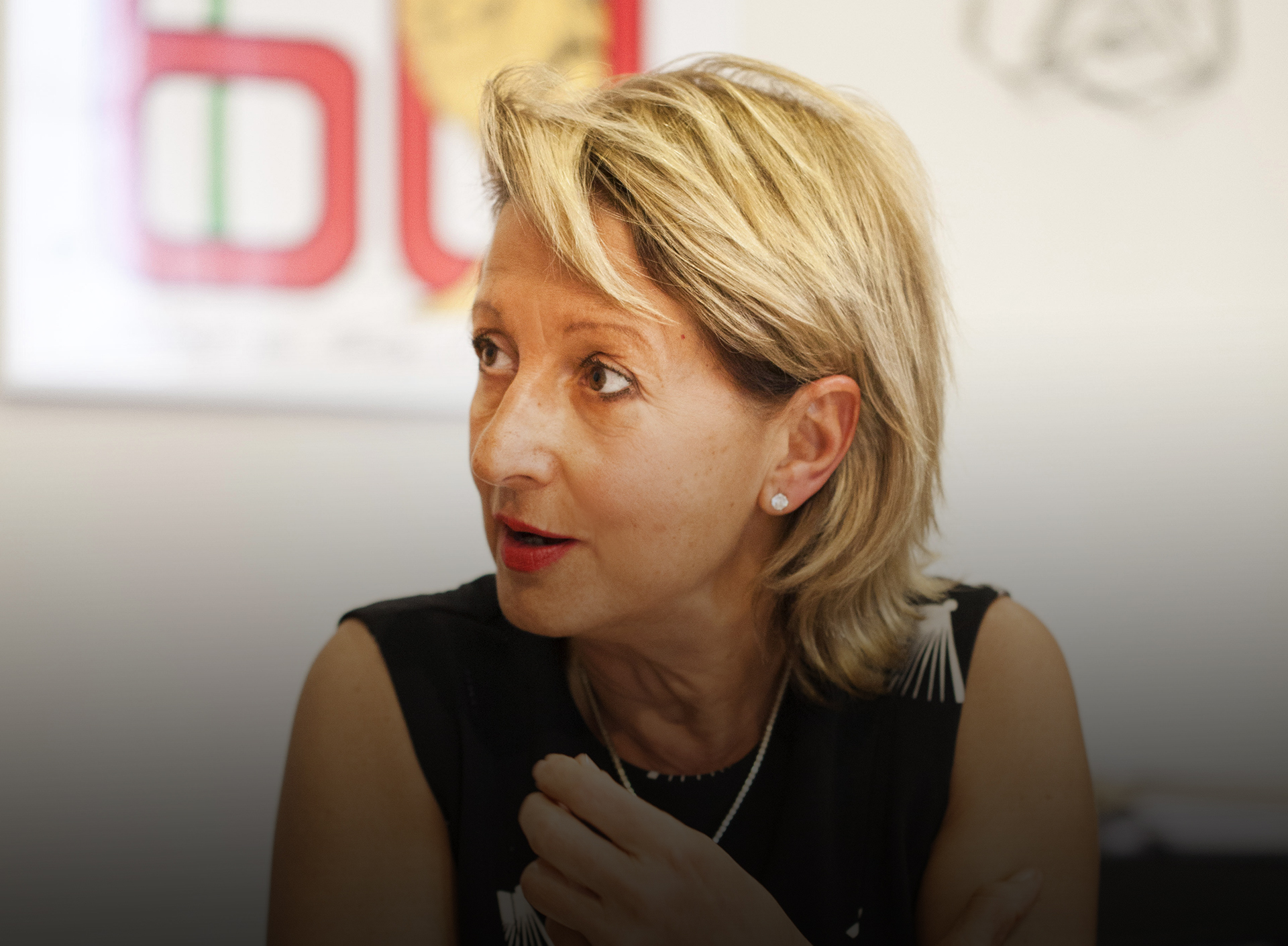 With our CEO being rewarded of the Legion of Honour it is a good moment to convey her story…
It all started in the foothills of Kilimanjaro
Sylvia was born to Italian parents who raised their four children in the foothills of Kilimanjaro, in Tanzania. From a very young age, her mother taught her the importance of beauty, aesthetics and elegance in shapes and colours. She discovered that beauty was found around her in various little things. A beautiful bouquet or a coloured cloth, a hint of lipstick or high-heeled shoes… somewhat out-of-place in Africa! It is the family's hallmark. Aesthetics above all else. A formative period which Sylvia will remember throughout her career.
In Africa she also discovered the harmony of nature and its balance which called out to her and guided her in her approach to design. With three years study and thanks to the help of Mrs Scott, her art teacher, Sylvia passed an exam which opened the door to her desired profession. Sylvia then lived in London and studied for an international baccalaureate alongside an apprenticeship at the prestigious London School of Art & Design.
An anecdote which shaped a destiny
It was by working as an au pair for Serge Gainsbourg and Jane Birkin that Sylvia discovered Paris in the early 1970s! She lived with this mythical couple for two years, looking after Charlotte and Kate. She remembers time spent at the townhouse on Rue de Verneuil. Bit by bit, she became part of the family. From evenings at Castel to field trips, the day arrived when she told Jane Birkin she was leaving in order to pursue her design career. Sympathetically, she responded straight away: "You cannot be an 'au pair', go back to being a designer." A week later, she joined the Petronio & Butcher agency in Paris.
An international vision of the design of everyday family products
In London, the meeting with her future (late) husband Nick would be a key part of her career development. Both lovers of design, art and beauty, they burst onto the scene by opening the Team Créatif agency in France in 1986. To stay in the centre of Paris and make full use of the city, they set up in a building in the 8th arrondissement. The international vision of these two foreigners with a passion for Paris set them apart from the others.
From their first clients in the toy sector (Hasbro, Mattel, etc.), they worked on everyday branding and packaging. Soon, they were continuing the adventure in the food sector with clients such as Mars, Danone, Bjorg and Bonneterre. For ethical reasons, Sylvia and Nick never wanted to work for alcohol or tobacco brands.
Sylvia loves to say that she has three children: Amélia, Nora and Team Créatif! Their enthusiasm and pragmatism guided them to develop the company, which soon became one of the top independent international groups with over 300 employees, in Europe (Paris, Limoges and Lyon), North America (Charlotte, North Carolina), South America (Sao Paulo, Brazil) and Asia (Jakarta, Indonesia).
Sylvia's secrets
Forging a career in design is a real challenge. Passion has always guided Sylvia and given her reason: her family, her job and her international development are closely linked to her life as a woman. A sports enthusiast (swimming, walking and horse riding) who enjoys a session of sport every morning, she is very feminine. She puts her sports gear to one side to slip into a beautiful dress and heels, and applies her make up. And it's off to work!
Sylvia injects " beauty in the everyday " in all the designs created by her teams ; packaging that is used by millions of families from morning to evening across the world. It must therefore be practical, aesthetic and accessible. As one of her close colleagues states: "Sylvia leaves nothing to chance! If the client is not satisfied, we start again, we make changes, we look at it more closely."
An anecdote which demonstrates Sylvia's determination. A few years ago, whilst discovering Brazil, the couple fell in love. Riding along Bahia beach on horseback, Sylvia and Nick came across a former 'poussada' (historic building) in ruins. No problem! They bought it and started to renovate it. The Brazilian story of Poussada Capitu – managed by her daughter Amélia – was sealed!
Sylvia recharges her batteries by going to art exhibitions around the world, despite a very busy schedule. She is fascinated by Van Gogh: she loves his power and vision of painting, even if the artist is often misunderstood. Encouraged by limitless curiosity, she has also visited the David Hockney retrospective at the Centre Pompidou. Her mixed taste in art – from Henri Moor to Alberto Giacometti via Frida Kahlo – gives a good indication of her character. She would never miss a Venice Biennale. She loves life and she is open to everything around her.
In terms of literature, she loves the realism of Émile Zola. He was the author who encouraged her to discover Paris. She is also fond of Italian filmmakers like Visconti, Fellini and Pasolini: they tell endearing and realistic stories. Finally, she appreciates the bravery of explorers like Bertrand Piccard, who proved that it was possible to circumnavigate the globe in the Solar Impulse plane without fuel.
"Believe in your dreams!"
Brick by brick, Sylvia has built an independent design group with solid foundations, and a strong ethical backbone… always reflecting the dreams she forged with Nick. It is important to her to "believe in your dreams" but also adds that "packaging is for everyone!" One day, Sylvia will pass the baton on to her daughter Nora, who will undoubtedly continue the unique family tradition, something which invigorates Team Créatif without exception, and underlines their claim: It's Good to be a Team!
Now we can see why the group's credo is: "Stay independent, never sell."