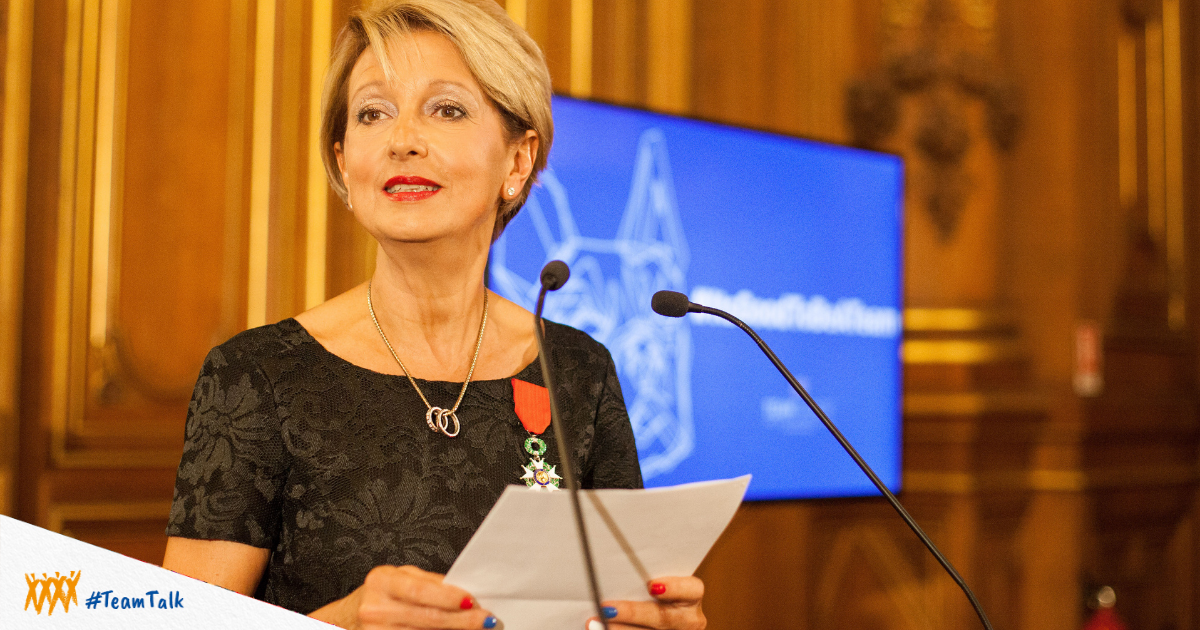 An inspiring woman, Sylvia Vitale Rotta founded Team Creatif 35 years ago with Nick Craig. This citizen of the world, who was the President of the first Design Jury at Eurobest and Cannes Lions. She is also the first woman to become a Chevalier de la Légion d'honneur in the world of graphic design. Sylvia Vitale Rotta has committed the group* to two structuring issues for the future: CSR with the B Corp certification; and Africa, which echoes her personal history, believing in the power of Design for this continent.
INfluencia: Team Créatif celebrates its 35th anniversary this year. The group is still independent. What is the secret of this adventure ?
Sylvia Vitale Rotta : The secret is a strong entrepreneurial temperament, a desire for independence and a dose of innocence, enthusiasm and above all a passion for design, which led Nick Craig and I, after studying design in England and working for a few years in an agency in London, to set up our own design agency specializing in branding and packaging in Paris, a city we had loved during a trip. We started out without a good knowledge of French ! 35 years later, the desire to remain independent and to have the freedom to decide our destiny is still strong. The meetings with clients who are still loyal to us 35 years later, other new ones and opportunities have been decisive.
Two other factors have consolidated the agency, which has since become a group born of design with 4 areas of expertise :
Patrice Saugeron's presence has been key to the financial management of the agency and the group for 18 years. And our bravery in having opened an agency in Brazil 17 years ago in São Paulo (Team Créatif Brasil) with almost 100 people, which has become the number one agency in the country.
IN. You often say that you have three children: Amelia, Nora and… Team Creative. Not easy for a company to remain a family business, what's next ?
S.V.R.: To remain a family-owned and independent company faithful to our values as much as we can. To hand over gently but surely to the directors and managers in place. Always take advantage of opportunities, no matter how crazy they may seem. Have the courage to "believe in our dreams", as we did in the early days. Always bring more expertise to our loyal customers. As we did recently with the creation of our department specialized in Structural Design; dedicated to eco-design for more responsible packaging; or our strategic department Trends & Innovation.
IN. : What is the current status of your international development ?
S.V.R.: We have always expanded internationally (60% of the group's sales are generated outside France). Our position in Asia has been strengthened with Jakarta and Singapore. The Brazilian agency, which was founded 17 years ago – we were pioneers – is showing incredible results. The United States (Team Creative USA is based in Charlotte) is a little more complicated, but it is very important to have this hub for managing our megabrands. In addition, this year we have also opened in Lisbon. International is in our DNA and in the typology of our clients.
IN. What lessons have you learned from the crisis we have been experiencing for the past year ?
S.V.R.: First of all, when you're an entrepreneur, you have to be really agile, even if we already knew that. This unprecedented crisis forced us to change our model. Putting all our employees on a teleworking basis was quite a challenge. Paradoxically, for some of our creatives, teleworking has increased their creativity. It also brought us closer to our clients in a more intimate relationship, we won competitions from a distance. In fact, we made the decision to maintain 2 days of teleworking per week after the pandemic. This gave us confidence that our processes were solid and easy, our teams strong and most of our customers loyal.
IN. : Your reason to be is "Designing a beautiful tomorrow". How does this manifest itself ?
S.V.R.: We started a B Corp certification process over a year ago. This has enabled us to review our model, to improve it and to put many things in place. Like the anti-harassment charter, the extension of paternity leave or the carbon compensation of all our travels… We are convinced that committed companies will contribute to a better world tomorrow and that Design has an essential role to play. Our reason to be is fully expresses what we are in order to best accompany our clients, particularly with eco-design.
IN. You were born in Tanzania (Africa) of Italian parents and you are very involved in the African continent. You carried out a mission there with IFAD. Can you tell us what you did there and how it fits in with your reason to be ?
S.V.R.: It's been almost 2 years that Team Creatif has been working in Africa on different projects at the request of IFAD (United Nations specialized agency), in particular the Agricultural Development and Marketing Support Project (Propacom) supported by IFAD (International Fund for Agricultural Development) in Ivory Coast. The idea is to propose a branding and packaging that can be adapted in each of the 23 countries to enhance the production of small farmers who, due to the lack of a strong brand that unites them and eco-designed packaging, are forced to sell their crops in bulk and at ridiculous prices that do not allow them to live.
The reason to be of our group "Designing a beautiful tomorrow" therefore makes sense. This project allowed us to validate our deepest convictions : the absolute necessity of a transfer of knowledge via support from the chamber of commerce, the business council, suppliers and local designers to succeed in this undertaking. Our specifications: to focus the project on eco-design issues (shape, materials, graphics) and containers (packaging), based on an agriculture as demanding and natural as organic. Finally, funds from IFAD and the Ivorian government are expected to jointly launch initiatives on West African countries, several agricultural sectors such as mango, with the upcoming partnership with PADFA and especially the establishment of a sales force and promotion of local products under the brand "Terre d'Ivoire". We are also signatories of "I am Africa", as well as the charter "Alpha Alliance".
IN. Do you also plan to establish yourself in Africa ?
S.V.R.: Sharing our know-how and skills will involve the future creation of a Team Créatif agency in Abidjan, which has become obvious. The establishment in Africa will help us to recruit local graphic designers and to support printers who are almost non-existent in Ivory Coast to set up the industry.
IN. What is the role of design in society ?
S.V.R.: Design has a major role to play in contributing to a better world, with eco-design, more adapted to needs, more responsible to help populations as we have seen in Africa.
Tomorrow's packaging will be more and more responsible, more adapted to the aging population… but still necessary to preserve food and food safety. It will be more and more connected with QR codes and will allow the pack to inform consumers about the product they are buying, especially in food, about its composition, the way it is made, its origin… and sometimes even to educate them.
IN: You have always been very committed as a woman. What is your vision on the place of women in communication ?
S.V.R.: The place of women in society, in communication and in design is fundamental, and it is gradually evolving in the comex. We must give women the opportunity to feel more confident, to change mentalities. The extension of paternity leave and the requested parity in the Comex will gradually change things. I have been a mentor several times for the "See it be it" program in Cannes, which aims to inspire and motivate women to achieve equal gender representation among creative directors and industry leaders worldwide. I also participate in the International Women's Forum.
*Turnover: 36 M Euros, 300 employees worldwide.
Find the article at INfluencia.